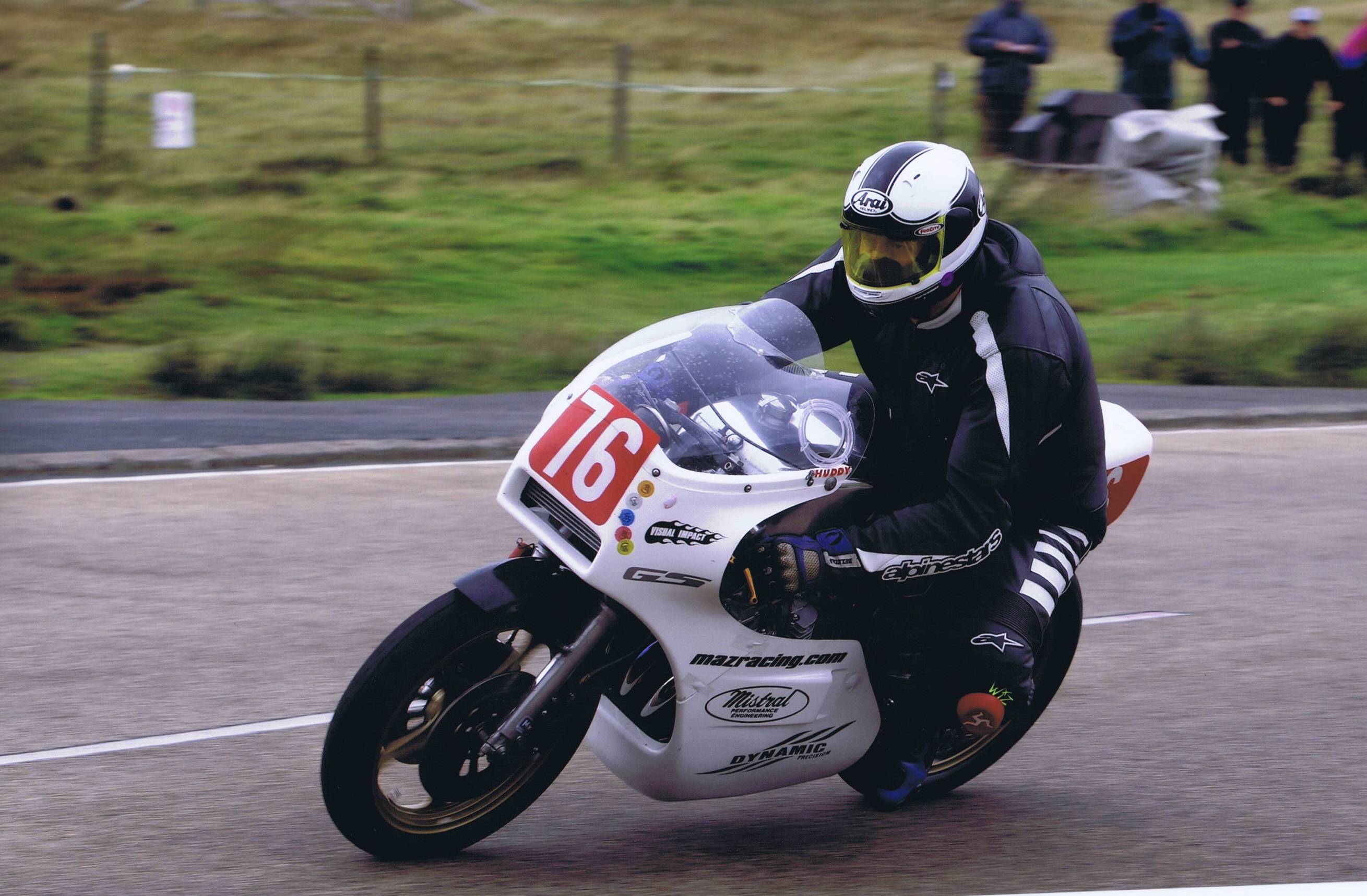 The GS MGP 2009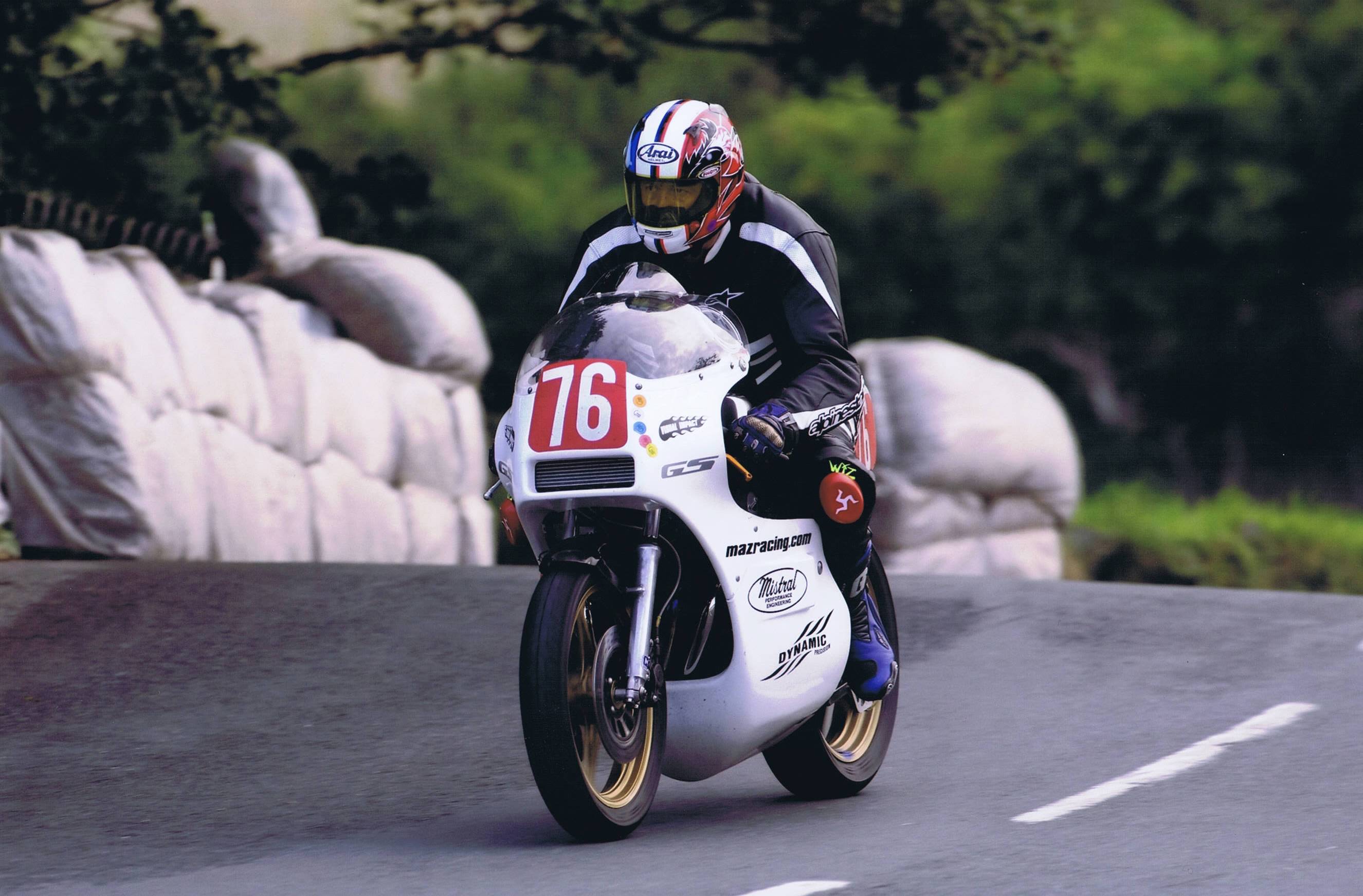 Practice MGP 2009
7 January 2010
Huddy finished 11th in the Thundersport Streetfighter A Championship in 2009. Somewhat different to his second in 2008 however he missed the June, July and August rounds last year (nearly said this year) which put a big hole in his points. He also changed bikes and used the last round to test the GSXR in Streetfighter mode.
6 June 2009
Huddy normally goes well at Oulten and especially in the rain as he truly relishes it! He was lying fourth in the first race when his lampeter sensor fell out into the belly pan on the last lap and he promptly lost two places which is a bummer!
Second race was fairly uneventful with him coming home 7th.
17 March

Huddy was at Mallory and got a good qualifying session in although he had hoped to qualify better. He had hoped to get the 1200 Bandit ready for this round but we've had a slight change in plan. We've bought a GS1000 ex Andy McGladdery race bike which has diverted a lot of his time. He hopes to ride this in the post classic class at the Manx Grand Prix this year.

Huddy
Second in the Thundersport GB Streetfighter A Championship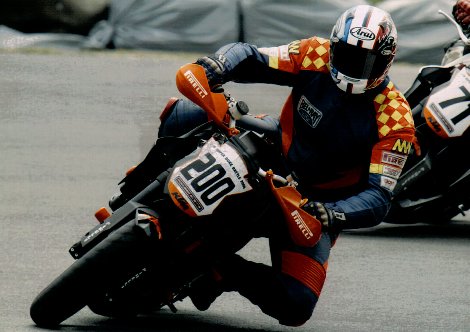 19 October

Essentially Huddy had to win every race at Donington and the leader of the Championship had to have a dnf in the first race. In the first race it looked as though Huddy was going to beat him as there was nothing in it in the first few laps and then it was red flagged. The restart Huddy wasn't so close and although was closing him down came home third to Steve Joy's second. The championship was over with Steve Joy winning with Huddy second. Huddy went on to score another third with a win and a second at Mallory on the Sunday at the Race of the Year Meeting.
13th to 14th September
Huddy had a battle on his hands this weekend to stay in touch in the Championship. He left Anglesey with two seconds and two thirds but the gap widens between him and Steve Joy. The DNF at Brands earlier in the year is now at the forefront of his mind as the total number of points available diminishes.
The next rounds are Donington and Mallory in October.
THUNDERSPORT GB - Round 8 - Anglesey is shown on Motors TV
Presenters: Jennie Gow & Steve Day
Commentators: Robin Murphy & Ian Guy
Monday 29th September - 9.00p.m.
Tuesday 30th September - 5.00a.m.
Wednesday 1st October - 2.00p.m.
Thursday 2nd October - 3.00a.m.
Friday 3rd October - 12.30a.m. & 4.00p.m.
Sunday 5th October - 5.00a.m.
Tuesday 7th October - 1.00a.m.
27 July 2008

Mallory was hot baking hot in fact. I was KTM bird for the day helping Huddy as best I could. Qualifying didn't go as well as he hoped but he came away from a sweaty day with two thirds. He was also three seconds a lap faster than last time he was there although it was of course a lot warmer today which did help. All in all not a bad day.

30 June 2008

Snetterton was never going to be Huddy's strongest circuit as all those he is racing against are smaller and lighter than he is. After a decent qualifying session he was on the second row for the races. The weekend saw some close racing with Huddy getting two seconds and two thirds.
Thundersport GB now moves to Mallory on the 27 July.
31 May/1 June 2008
Huddy has never really liked Brands he calls it the magic roundabout. He did however lap quicker on the KTM this weekend than he did a few years ago on his Gixser so it can't have been that bad.
Christian Iddon was back from his supermotard duties for Aprilia and was riding well clearing up on Saturday with Huddy coming home fourth in both races.
Unfortunately Huddy had a DNF on Sunday as the gear linkage broke on lap four. He did however get out in race two and got a second only to receive a ten second penalty after a mix up with the marshals who thought he'd overtaken on a yellow flag. This knocked him down to third.
26 May 2008
We were hoping that the wet weather covering the South of England would get a move on and hit Donington for Huddy's race but for once all weekend it was dry. He had a good race though and finished eighteenth
The race was won by Dave Wood who if he had entered in the Super stocks would have finished mid field and towards the front of midfield as well!
25 May 2008
Donington is an inhospitable place in the wet and when you add blustery wind it was quite grim. Huddy however rides well in the wet and seemed to get into a good rhythm early in his race picking off four riders in the first lap. By the fifth lap he was up to fifteenth and was lapping quicker than the four or five in front when he pulled in. No clutch. That as they say was the end of that.
24 May 2008
BSB pomp and ceremony and the worst paddock ever created for racing bikes. We were on a building site with dust, rubble and pot holes. After it rained it all turned to mud. Nice. As you would expect the premier classes get the tarmac and the garages.
It is fair to say Huddy got trounced in free practice. He had a chat with Ian one of the KTM consultants who linked up his laptop to find that the wrong map had been installed limiting the bike's revs and bhp.
17-18 May 2008
Huddy was racing at Cadwell with Thundersport GB this weekend and what a weekend it turned out to be. His first on his own KTM Super Duke R and he totally dominated the Streetfighter A class with three wins and one second. These great results have taken him into the lead of the Championship. I'm really chuffed for him.
We are off to Donington this weekend for the BSB Super Duke Battle.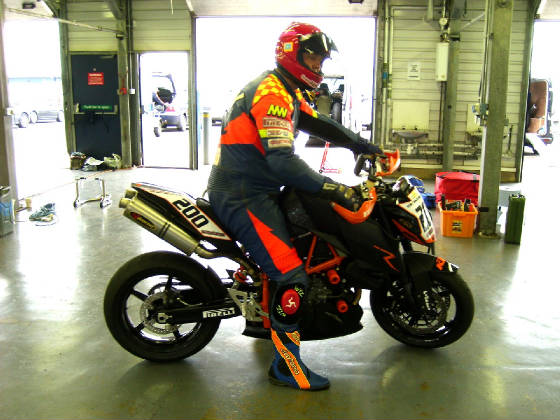 Huddy at Rockingham on the new KTM Super Duke R
4 May 2008
It was only running it in but Huddy's KTM Super Duke R started with zero miles on the clock. We were lucky with the weather and got a full day at Rockingham. I was helping run it in and I have to say it is great fun to ride. It may not be the fastest thing on two wheels but it sounds great, will leave most things out of a corner and puts a big smile on your face, What more can you ask for from a bike?
Huddy will be riding it in the British Super Bike KTM Battle which is a support class and the Thundersport GB Streetfighter class in which he is currently second in the Championship.
6 April 2008
Huddy qualified 9th overall in the Junior Powerbike/Streetfighter class at a very cold Oulton Park with the Thundersport GB Club.
The first race went well with him getting a 10th overall and a second in class behind Christian Iddon.
As the day went on the colder it got and it was freezing for the second race which was the last of the day.
Again starting ninth he fought his way up to fifth overall and second in class as the snow fell. The race was red flagged and brought to a very abrupt close as the snow fell even heavier.
Huddy is now second in the Streetfighter Championship after two rounds.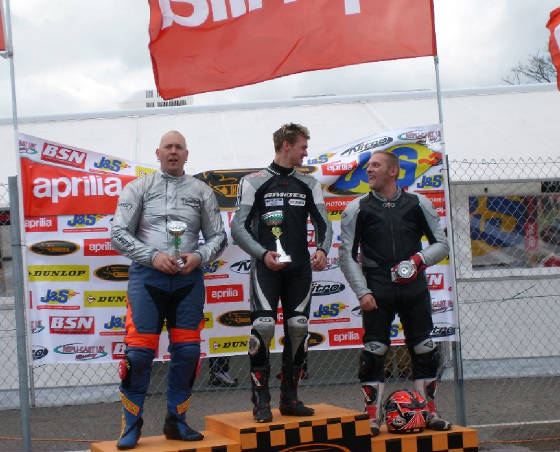 Huddy on the Podium after his Second to Christian Iddon at Oulton
24 March 2008
The Mallory Round of Thundersport GB is on Motors TV on the 31st March at 7pm.
The Sound of Thunder with Derby Phoenix was going to be a bit of an uphill task for the Duke as it would be up against GSXR 750s and Milles and simply giving away shed loads of horsepower. But the bike puts a huge grin on Huddy's face every time he rides it and sometimes you have to remember that racing is meant to be fun.
The rain dance didn't work too well on Friday and it stayed dry although it was freezing and windy. Huddy got two 8ths in class which he was pleased with.
Saturday it rained and he was well up for the first race and looked to have a great laugh cutting through the field to get a 4th in class. Cheesy grins all round.
Oulten next on the 4 April with Thundersport GB.
17 March 2008


Mallory was a bit of a mixed bag yesterday for Huddy and Al. Huddy riding in the Streefighter class had two races and Al in the Sound of Thunder had one. Huddy fought his way up the field and got a credible second in the first race. Al was then out and unfortunately fell off on the first lap. The bike was relatively undamaged once all the mud was washed of it. Footpeg and gear change replaced and ready to go again. Huddy was out again and got a third. Hence the mixed bag of racing - both ends of the spectrum all in one day!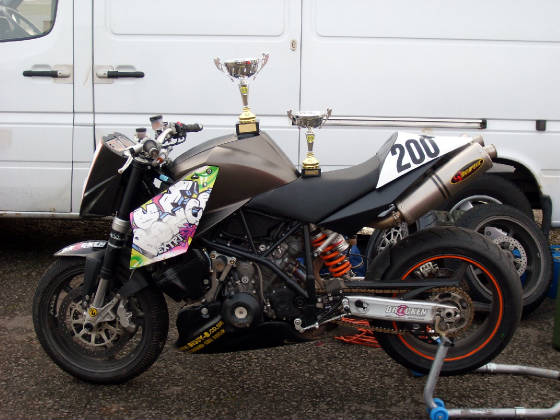 4 March 2008
Mallory was cold but dry for the first few sessions. The test day wasn't packed but there was a good turn out especially with it still being February and Mallory. Huddy and Al got a couple of sessions in before the rain came at lunchtime. The KTM's punch out of the corners was evident especially coming out of Edwina's where it gained feet on other bikes..
The boys are back at Mallory for the first Thundersport event in two weeks time.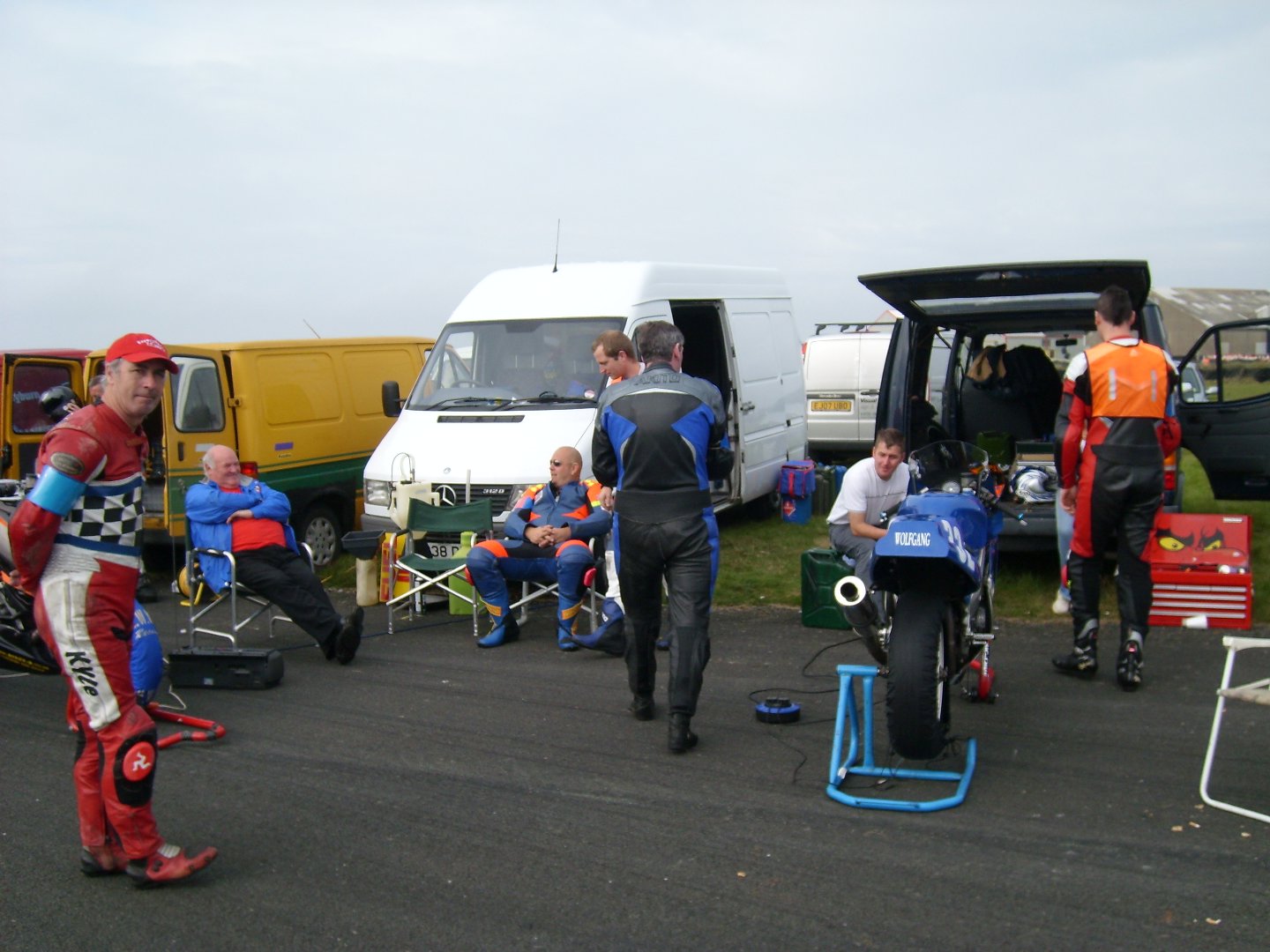 A very relaxed looking lot at practice at Jurby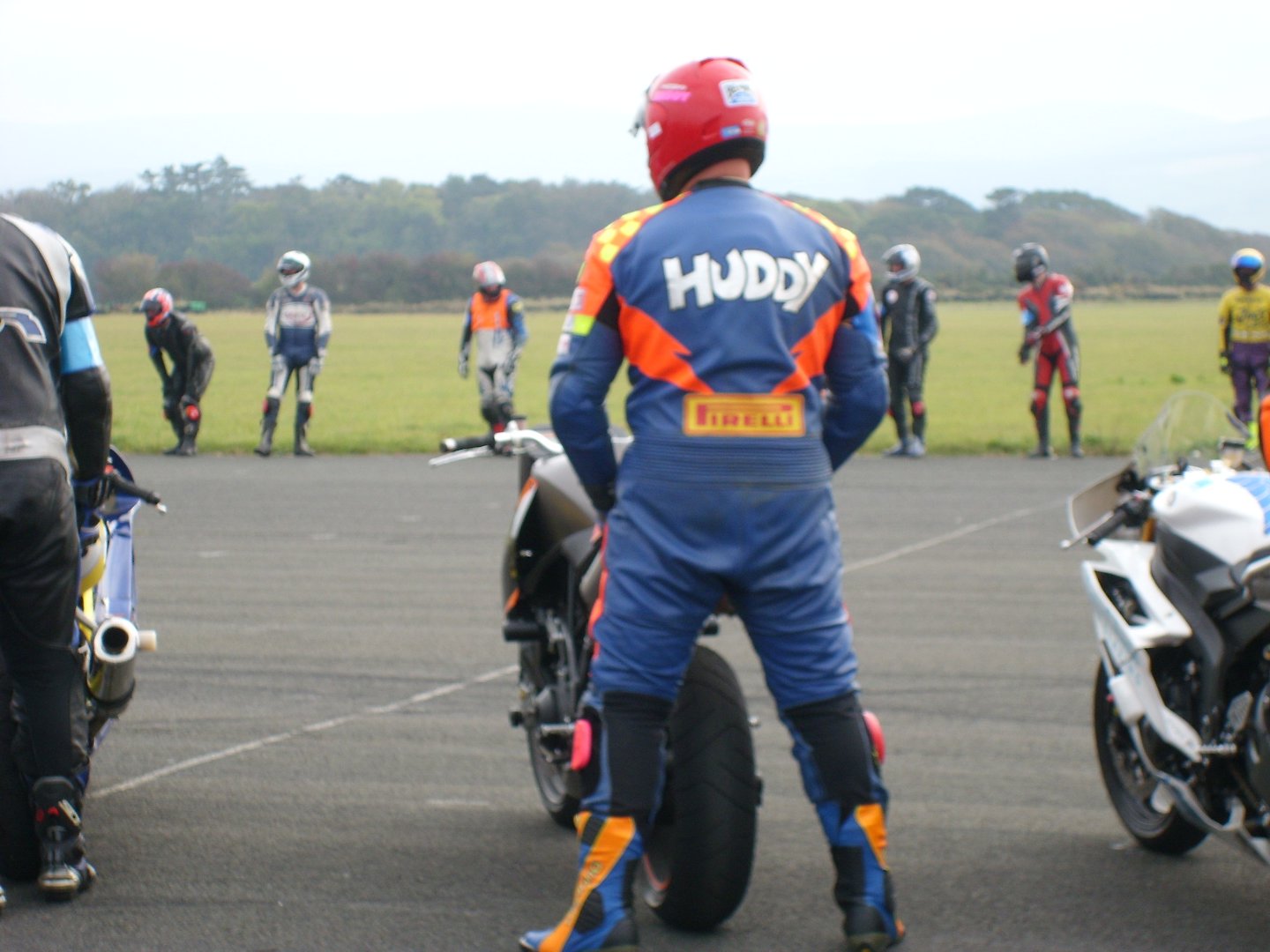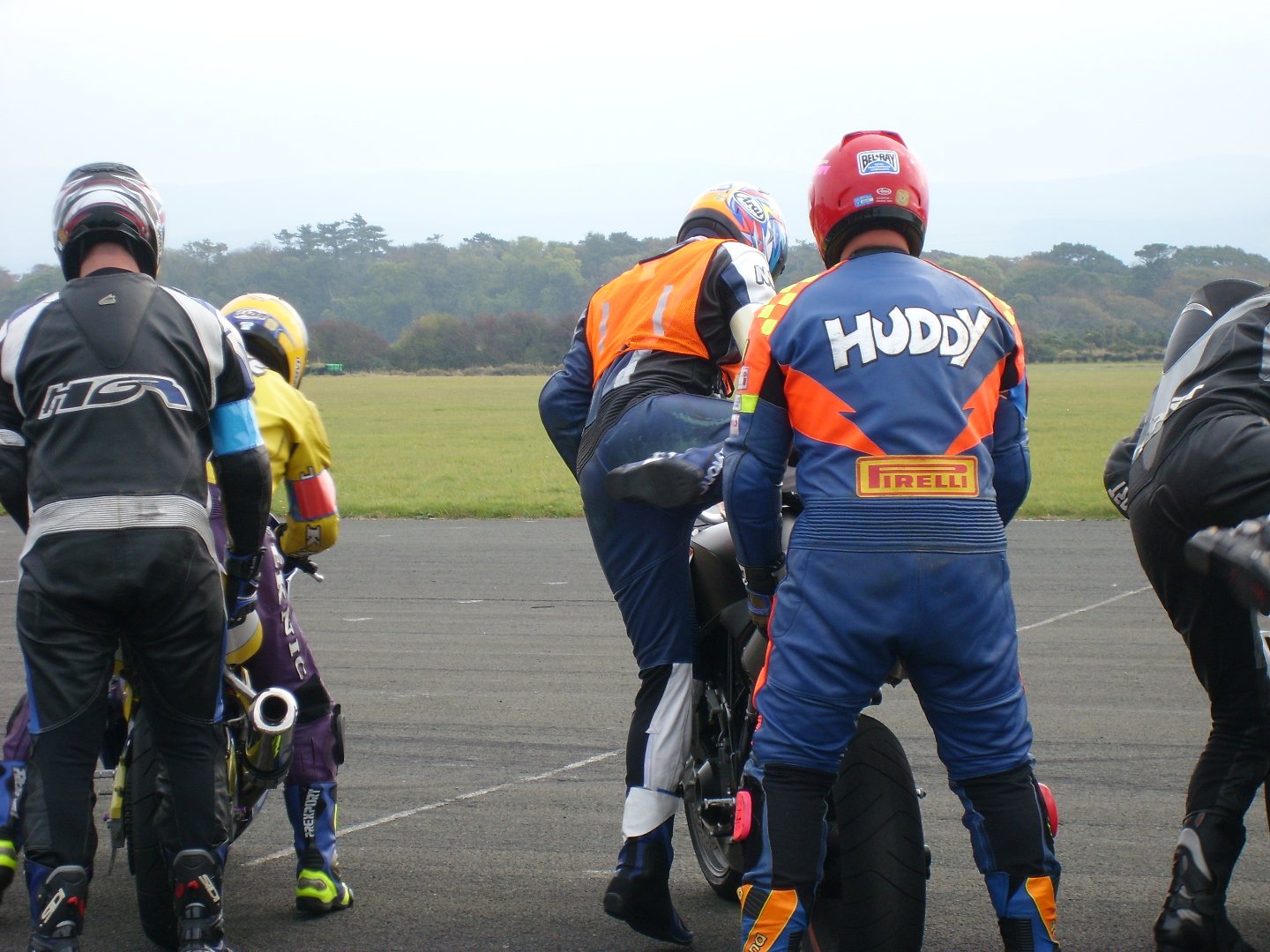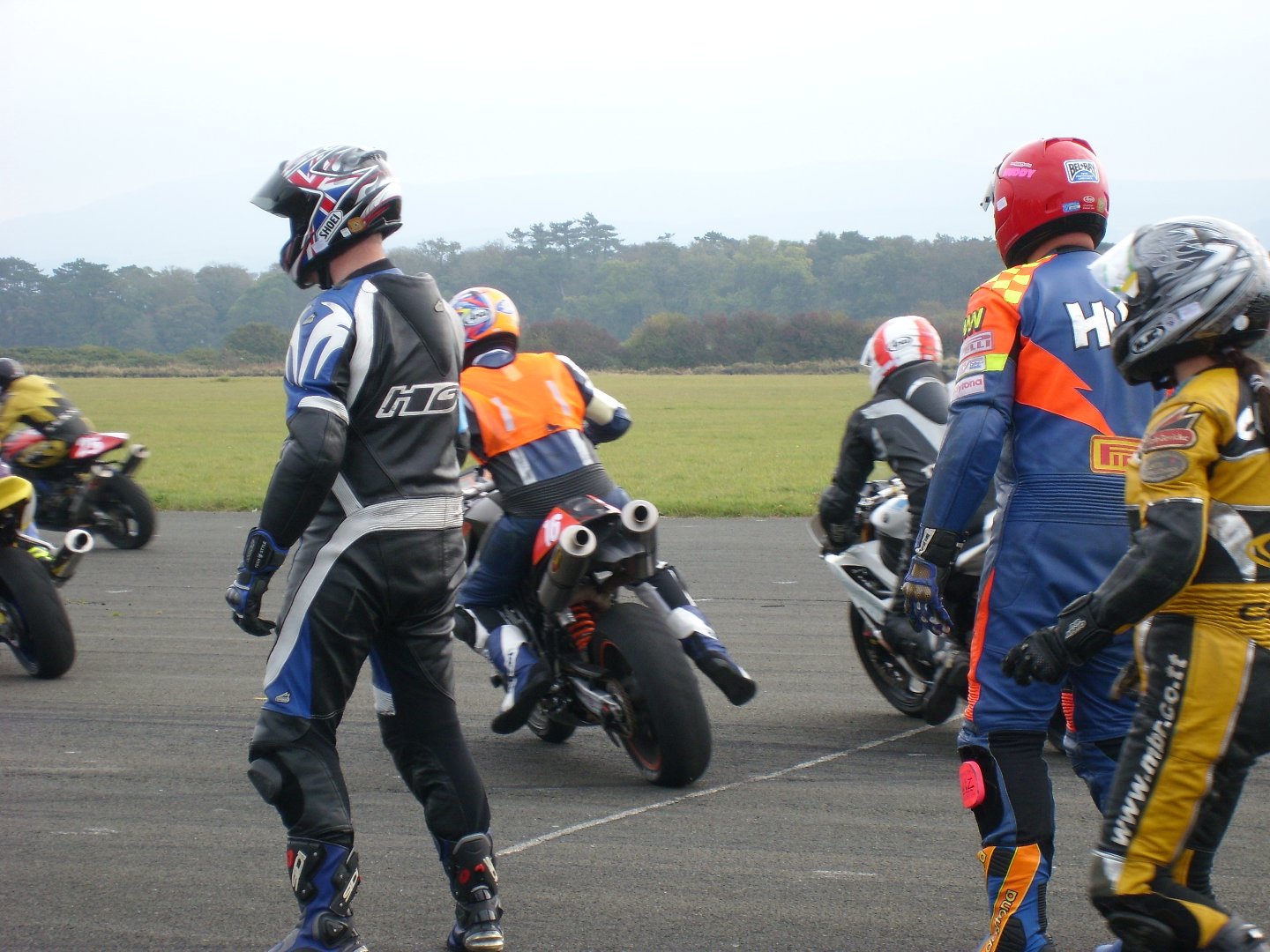 3rd October 2007
Al and Huddy went up to Mallory today to do a test day on the KTM Super Duke. I was at home revising for my Exams. They got a couple of good sessions in with the bike going well.
7th October 2007
We knew at the outset that the KTM wasn't going to win the Open class but having said that we also knew it was going to be good fun to ride on the course they use for the Endurance race as there is no large straights. It was also going to be a good opportunity for Al to ride his bike and hopefully get another signature.
The weather was really good for Jurby and the time of year. For a start it was sunny, warm and not windy, pretty good for October on an airfield, eh! Al started us off "Le Mans" style and away we went.
It was obvious who was going to be up the front in our class - the Open and low and behold after the first few sessions it was MBR 1 and 2 and the Hallett Aviation boys jostling for the front positions. Our times dropped through the race with the big KTM being as much fun to ride as I has anticipated. Nice and punchy out of the corners and I didn't need the crate to get on and off!
Just before halfway we were informed that our rear tyre wasn't going to last. That'll be the punch out of the corners then was a bald patch was forming just of center. There was n o way that was going to last another four hours! Al didn't have any spare wheels so Kev Cringle very kindly lent us his bead breaker and tyre levers and Slick gave us a part worn tyre. Huddy did a wheel out, tyre off and on, with wheel back in, in fifteen minutes. Bloody quick considering all manually done including pumping up the tyre. I went out and tidied up the part worn and got a bit of heat in it and then Al jumped aboard as it started to spit rain. It cleared up quickly and the rest of the race was uneventful. Huddy did the last session with us coming in 7th in class. A good day had by all with the KTM sticking its finger up to all those who thought it wouldn't be reliable.
Rich Hawkins gave us a hand all day, which was greatly appreciated - thanks Rich.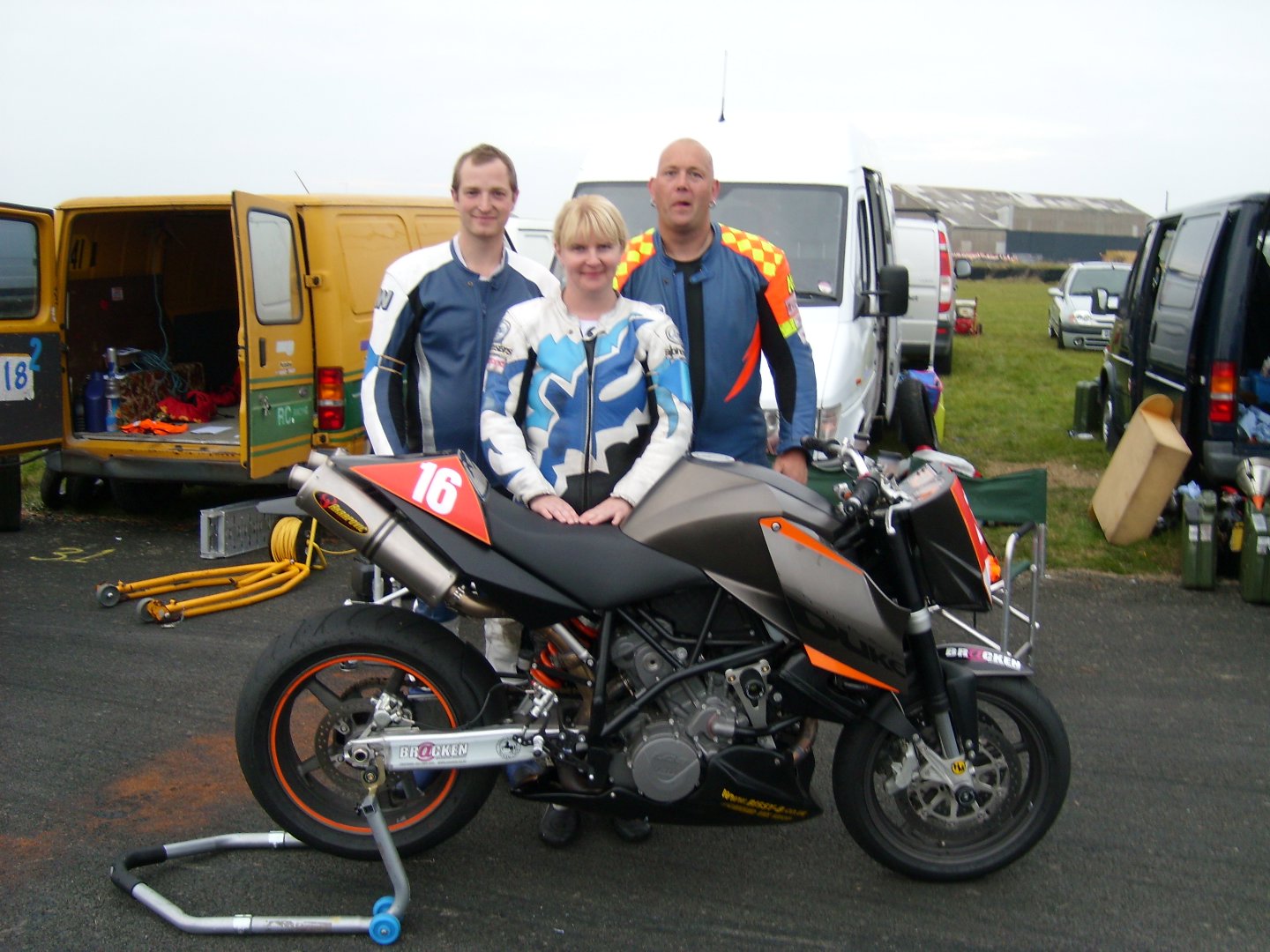 7th September 2007
Our entry is in for the Andreas Racing Club Jurby Endurance in the Isle of Man. Huddy and I are riding in the Team Pants Team with Alan Pattison. We are riding Al's KTM Super Duke 990. A radical looking bike with a great torquey motor. I just hope I can touch the floor! Maybe Huddy can rig up a Pedrosa style crate for me to use to get on and off it!

This photo was taken at Mallory in 2001. From left to right Nick Dan Maz Huddy and Keith
Before anyone started racing we used to run round on our bikes and do the occasional trackday. At that time circa 1999-2000 there was Huddy and me, Dan, Keith, Bodo and Nick. Nick thought up Team Pants and came up with Poor And Now Totally Skint.
Huddy and Dan decided to do Mallory with EMRA and the following year 2001 it all kicked off and the rest as they say is history! Dan did a season very successfully but it was brought to an abrupt halt with a big off at Pembrey and an unsympathetic employer.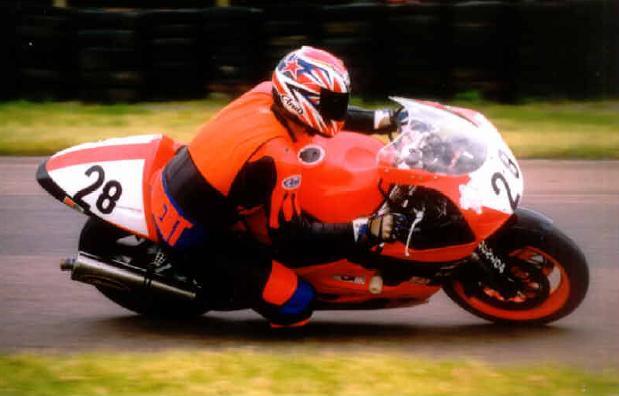 Dan on board the 750 at Mallory